Linford Deameris Vaughn, Jr.
June 28, 1974 - August 21, 2012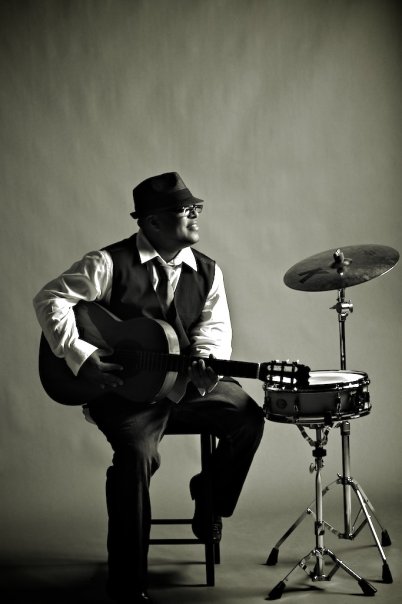 A few words about my late great friend and drummer Linford Deameris Vaughn Jr. He was simply one of the best friends one could hope to have. He was loyal, funny, smart and a fantastic drummer and musician. I was blessed to have had many years making music together and he played drums on one of my recording projects. He was my brother and I will always miss him. Following are the words taken from the church service. 5 a.m. from the recording It's About Time Linford Deameris Vaughn Jr., (Deam as he was affectionately called) was born on June 28, 1974 in Harvey, IL to Mrs. Lucille Johnson-Vaughn and Mr. Linford D. Vaughn Sr. The second child and first son of three children, he was given 38 years of life. His life became a legacy of love, faith, integrity, peace as well as inspiration to us all. During the course of his life he made thousands of friends. His passion for people was tremendous. Deam accepted Jesus Christ as his savior at Universal Church of God in Robbins, IL at an early age. Later he an his family relocated to Hazel Crest where he and his family joined Christ Bible Center in Chicago, IL. As a young adult he served the music department of: To God Be the Glory Ministries, Crusaders Ministry, and Beyond the Vail Ministries. Until his death he was a faithful member and served the music ministry at New Life Christian Fellowship. Deam was given the gift of music and demonstrated this God fiven gift from the age of one. He could be found anytime beating on anything including pieces of furniture. He was in the zone and heard nothing but the beats and rhythms of heaven. Deam could be found every Sunday playing the drums at several different ministries throughout the city and country. Deam attended Prairie Hill Elementary School, Markham, IL, Prairie Hills Junior Academy, Markham, IL and Polaris School for Individual Education (Gifted Music School) Oak Lawn, IL. He received his college education from University of IL at Chicago with honors in music. Deam operated in a spirit of excellence from pre-school with straight As until his completion from college where he was an honors student. He was employed by Harris Bank and Revlon. As music producer Deam promoted and nurtured many singers and musicians. He taught music at Music Net and as an accomplished musician gave private lessons. his ultimate gifts as a musician presented opportunities for him to perform for exclusive corporate events even as he journied through health struggles. He was a tennis coach for Chicago State College, Simeon High School, Bally's of Hyde Park, and Evergreen Park District Tennis, Evergreen Park, IL., and Oak Lawn Tennis in Oak Lawn, IL. Deam traveled extensively to many cities and states. His greatest joy was being able to perform multiple times ath the NAACP national convention. He performed with many great artists in Germany, Sweden, Switzerland, England, Aruba and Jamaica. He sponsored delegates of musicians and singers from Cape Town, South Africa. These delegates would tour the US with Linford as their manager. There was no sacrifice too great for the love of music. During Linford's last 3 years of life he was able to fulfill another dream by attending the annual NAMM show in Anaheim, CA. His love for God was one of his many outstanding qualities. He was an awesome leader following the daily leadership of our Lord Jesus. From his former marriage, two handsome sons wer born; Linford Deameris III and Deamari Josiah. His sons were his pride and joy. They were his reason for living. He believed in discipline. He felt in case he wasn't around that he wanted his boys to be able to develop into productive citizens and men. He insisted they work towards excellence. As he started on his journey of recovery he also enjoyed coaching little league basketball for his sons. Deam loved to give Godly advice to his siblings. He wouldn't waver from biblical truths. His siblings could also recall his love for food and would argue over whose plate looks best. He could recommend the finest restaurants and knew the menu; recommening what to order. Deam passed away into eternity on Tuesday August 21, 2012 at 10:30 pm in Chicago, IL. He leaves to cherish his memories: two loving sons, Linford Vaughn III and Deamari Josiah Vaughn; a loving mother, Mrs. Lucille Johnson-Allen; God-given father, Mr. Charles Edward Allen; father, Linford D. Vaughn Sr.;, three sisters, Linela D. Vaughn, Amber (Pierre) Henderson, and Ashley Vaughn; brothers, Thomas Vaughn, Jeffery Vaughn, and Jermaine Vaughn; grandfather, Rev. Thomas Johnson (Maxine); very special sister and brother-in-law, Vanessa and Donald Shaffer; an oustanding friend, Mrs. Cynthia Morrow; 11 aunts, 8 uncles, 5 nieces, 2 nephews and 1 great niece; an awesome uncle/brother, Mr. Timothy Johnson; life long friend, Mr. Brian Jackson; and a host of relatives and friends.